Review of Ninebot KickScooter E22: Is it reliable for commuting?

Leikeji > Reviews > Text | PriceChong |
*All rights reserved
---
Review of Ninebot KickScooter E22:
Is it reliable for commuting?
I have to admit that I am very experienced in being late for work.
I thought that moving closer to my company would help me save time on the road. When I signed the tenancy agreement, the estate agency told me about the convenient electric shuttle buses in the neighborhood and assured me that I would never be late again. But it turned out that I could easily waste 20 minutes on the bus just waiting for all the seats to be taken.
Do I have to walk to work from now on?

So, I "robbed" the Ninebot KickScooter E22 from a colleague that was sent here a while ago but still in the box, and here comes this "un-objective" and "non-independent" review.

01 / Assembling easier than building models
Fans of model building might know the famous series models called "Adult Superalloy", which are toys made of large number of metal parts with themes more suitable for adults. For example, the well-known "Apollo 13 Saturn V Rocket Model" is a product dedicated to young souls of adults. Likewise, Ninebot KickScooter E22 is essentially a big toy with the function ofcommuting that's born to fulfill the wish of "playing with scooter".
The assembling of E22 is pretty straightforward. Unpack the box, remove the anti-collision materials, erect and lock the column, insert one pin into the handlebar, tighten six screws with an accompanied 3mm wrench, and it's done. This is even simpler than building many toy models costing no more than RMB 200.
It should be noted that I did not mean E22 is poorly crafted like a low-end toy and not worth the price. On the contrary, E22's workmanship is great. With a body made of 6xxx series aluminum alloy and sandblasted on the surface, it's robust and classy. It remains stable even when I, with a weight of over 100kg, stand on it.
Due to use of of aluminum alloy in the body, E22 is not that light. It weighs about 13 kg not including the external battery, making it a little bit hard to carry upstairs and downstairs everyday. The weight could be optimized if magnesium alloy is used, even though the battery accounts for a considerable amount of it.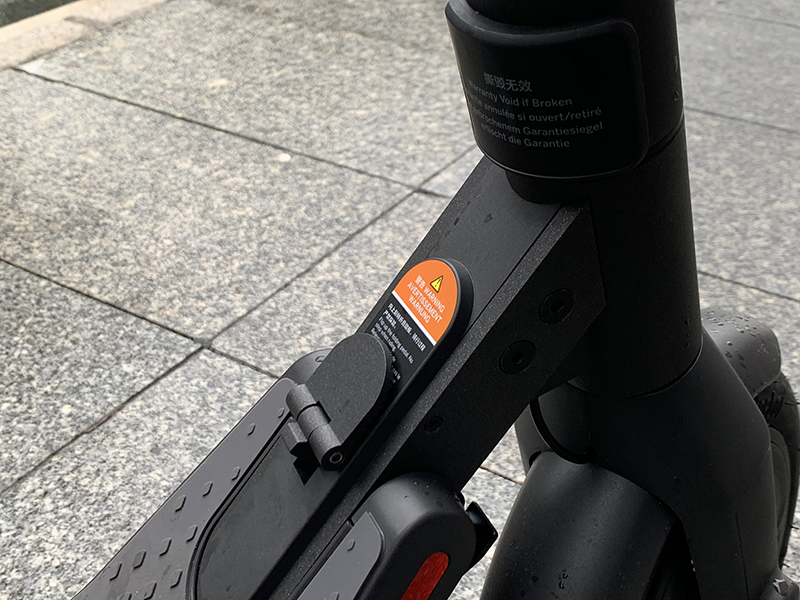 The height of handlebar cannot be adjusted probably for the sake of body strength, but I can hold the bars easily with my arms stretching straight. I'm 188 cm tall, so I believe most people should be able to hold the bars with no problem.
02 / Straightforward operating instructions
To start E22, you need to press the button below the speed meter , connect it to the APP on your phone via Bluetooth and watch a safety warning video lasting one and a half minutes. Just like most similar products, the paddle at the right is for accelerating and the left one is for decelerating.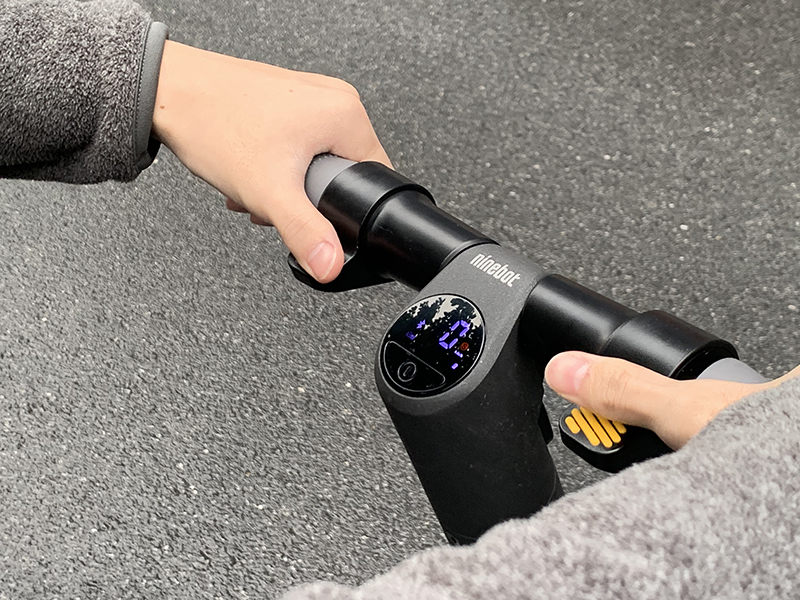 However, it should be noted that the deceleration paddle using E-ABS electronic brake will not completely lock up the wheels. Even though the paddle is fully pressed, the wheels will keep rolling. So, extra attention should be paid when waiting at the traffic light, and you can ste p on the rear mudguard if deadlock of the wheels is required.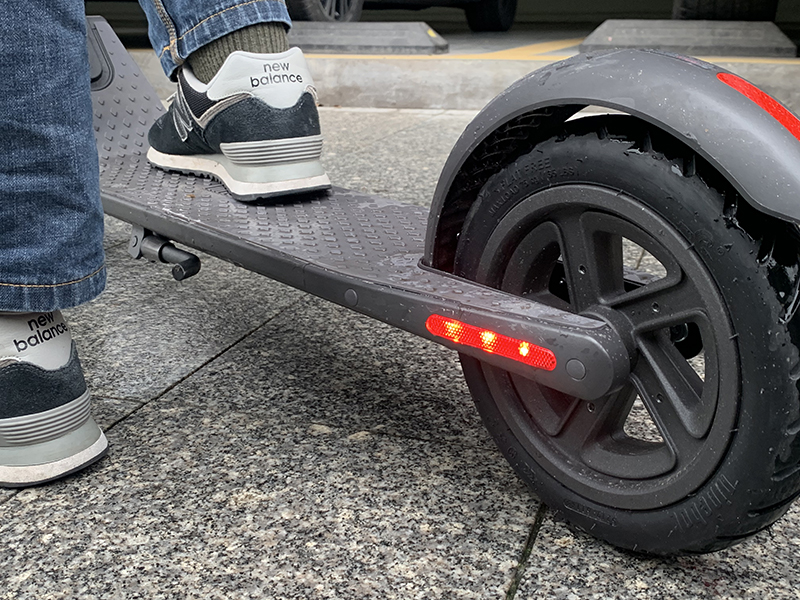 E-ABS electronic brake is in fact an interesting function. It has a "power recovery" feature similar to what is used in new-energy vehicles, which recollects kinetic energy lost during braking back into the battery, thereby contributing to improved braking efficiency as well as increased endurance mileage.
The nominal endurance mileage of E22 is 22 km. This is where the named "E22" comes from. Based on my riding experience in my neighborhood, there is 47% of the battery left after traveling for 9.8 km, which means this nominal endurance mileage is reliable. In terms of charging speed, 33% of the battery (amounting to mileage of 7 km) can be recharged within one hour when the original charger is used.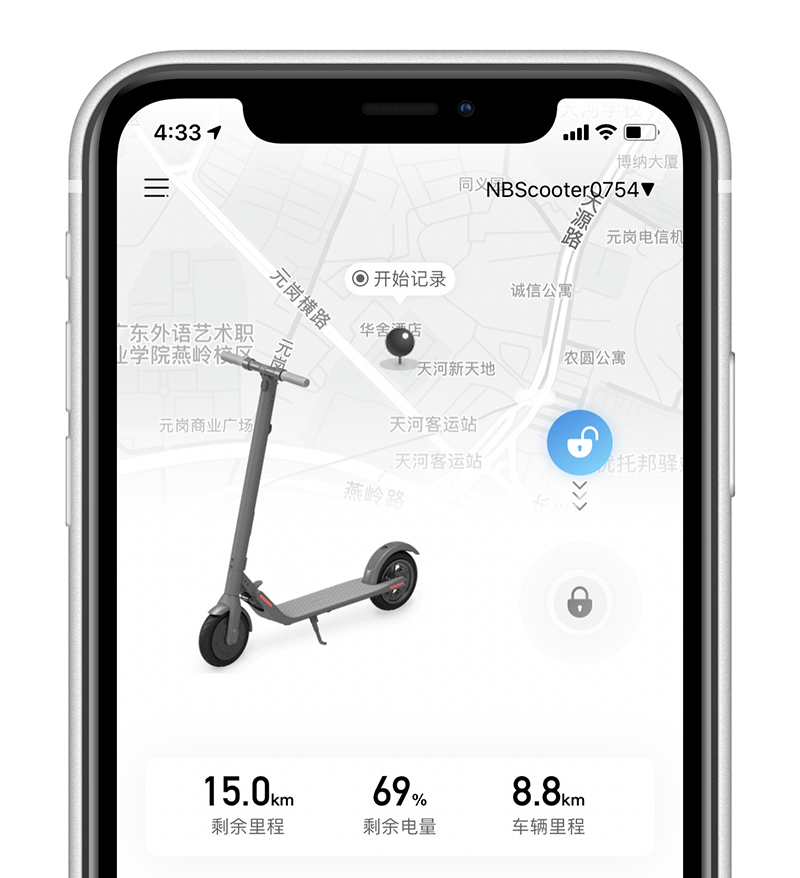 03 / Happiness for adults can sometimes be so simple
To be honest, I didn't mean to travel with the scooter for such a distance at the very start. I meant to test it for about 2 km or so. What made me ride on it for nearly 10 km? The answer is: because it brings me pure pleasure, the happiness from the bottom of my heart.
Road bikes or heavy-duty motorcycles are essentially transportation tools, and the pleasure of riding them comes from speed and acceleration. But E22 is different. It's still a scooter in nature --- a "big toy" that we played in our childhood. The pleasure in riding E22 does not come from its speed, after all, running at 15 km/h under standard mode and 20 km/h under performance mode is not that fast, instead, it comes from the pure fun of playing a toy.
Put your right foot on E22, thrust your left foot against the ground to start and press the right acceleration paddle, and E22's motor with peak power of 700W will start and provide power to the scooter. For your safety, the motor only starts when the speed threshold is reached. So rest assured, you won't get yourself thrown with the tiniest misoperation like when you ride some of the heavy-duty motorcycles.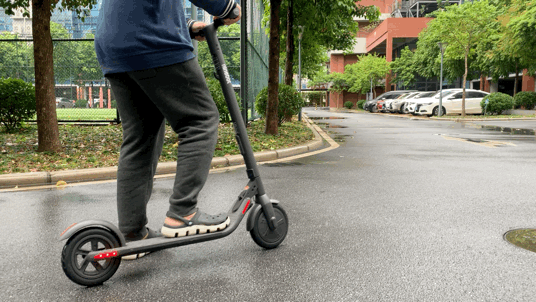 Running at the speed of 15 km/h, E22 can be easily surpassed by a road bike. But the pure joy of riding it cannot be taken away. You don't need to do much, just stand there, put your hand on the handle bar, without having to move your feet or even lean forward, and the scooter will run itself. It's almost like flying on a sword.
Compared to electric bikes, a kick scooter has one advantage- you won't worry too much about running out of battery, because even if it does so, you can always ride it home just like a non-electric scooter.
04 / Some details
As a Segway-Ninebot product, E22 shares the brand's great attention to small details. You can single tap the button below the speed meter to control the headlight, double tap it to switch among three speed modes, and hold it to turn on and off the power. Speed shows in the middle of the dashboard, with battery status in the bottom, Bluetooth indicator on the left and speed mode on the right. I normally use the standard speed mode because most roads here are narrow and crowded. Even under the standard mode, E22 has a great performance of acceleration.
E22 has made some improvement on the basis of traditional scooters. The headlight on the column has a range over 10m and is faced downwards to avoid blinding people in the opposite direction. 9-inch composite solid tires filled with elastic EVA materials are equipped to ensure better comfortness.
The scooter can be locked via mobile phone APP. Alarm will be triggered with headlight flashing if movement of the scooter is detected when it is locked. Well, since the entire vehicle only weighs 13 kg, a thief might as well just carry it and run away. So an extra lock is strongly recommended.
You can turn on "cruise control" in the APP by holding the acceleration button for 5 seconds. However, I did not try this function considering the road condition around my neighborhood.
05 / Is E22 worth its price?
Based on my riding experience, I think E22 is marketable sold at RMB1,899. It does solve many common problems in similar products, with improvement like more comfortable composite solid tires, and, more importantly, it's so much fun to ride. Compared to many road bikes costing more than RMB1,000, E22 surely have a lot of market potential.
Of course, it would seem unacceptable to some people to buy a "big toy" at the price of RMB1,899. But its great workmanship has proved that it is much more than just a "toy", not to mention the pleasant and smooth riding experience. I would definitely prefer E22 which is more fun over an electric bike.
Now let's get back to the question at the very beginning: will E22 stop me from being late to work and help me get home earlier?
It's hard to say because I have deliberately chosen the farther way ever since I began to use E22.